The consumption of alcohol has a long history in Uganda dating back to pre-colonial times when it was produced for ritual and communal associations. Here drinkers enjoy a central pot of homemade ajono in an illegal kafunda (bar). Ajono is another popular illegal home brew which is totally unregulated.
A drinker nurses his hangover in the shade of a banana tree. Imelda, a local distiller reveals "the men around Kimasa drink all day and do no work'.
The minimum drinking age in Uganda is 18 yrs old, but this is rarely enforced. The sale of small plastic sachets and bottles make alcohol easily available to the destitute and children. Some sachets are as small as 100ml and cost as little as 5p. Campaigners throughout Africa have long championed for a sachet ban, but unlike some neighbouring countries, the Ugandan Government has failed to act.
The corrugated iron roofs of Kimasa's 147 illegal distilleries knitted closely together, as thick clouds of smoke bellow into the air. Old oil distilling drums and piles of freshly cut timber litter the ground. Here crude waragi is being distilled on an industrial scale.
Over 480 people work in the illegal distilleries of Kimasa. The work is labour intensive and dangerous, yet the workers receive very little pay.
Waragi being distilled in an illegal distillery, where a worker is engulfed in a think cloud of acidic smoke.
A worker pours a jerry can of molasses into a fermenting barrel. Molasses is a viscous by-product from sugar refining and as illegal distilling has becomes more popular, the price has risen sharply.
Once the water & molasses have been mixed together it is left to ferment for four to five days before it is ready to be distilled.
Having been left to ferment, the sticky liquid is ready to be distilled.
A young mother takes a moments rest from the back breaking work. Most of the women here have fled the civil war in Northern Uganda, so do not have any family members who they can leave their young with. The smoke can not be good for their baby's developing lungs, but the women have no other option.
The black sticky residue from the distilling process flows through the open drains of Kimasa.
Waragi - Uganda's moonshine epidemic
John blows down the condensation pipe to check for blockages. Blockages are a common occurrence in the illegal distilleries and can cause the distilling barrels to explode. Many of the workers suffer from bad burns.
Imelda reveals her badly scared chest. Several years ago a drum in her distillery exploded, spraying her with a hot sticky liquid.
A young girl waits for transportation to the market, where she will sell her fresh batch of waragi. Traditionally the skills and recipe of the waragi process are passed down from mother to daughter.
Two workers oversea the distilling process. The work is labour intensive, as the fires need to be kept well stocked and the cooling water needs replacing every 15-20 minuets.
An illegal distiller empties the dregs out of one of her fermenting barrels.
Kimasa's 147 illegal distilleries go through an alarming amount of wood each day. Most of the trees in the area have already been cut down and the nearby Mabira Central Forest Reserve has experienced a lot of illegal logging.
The black sticky residue from the illegal distilling process saturates the ground around Kimasa
Women carry jerry cans of cold water from the local stream to replenish the cooling tanks in the illegal distilleries.
A delivery of new drums are distributed among Kimasa's illegal distilleries.
Imelda inspects a recently made batch of waragi, as it awaits to be distributed throughout Uganda.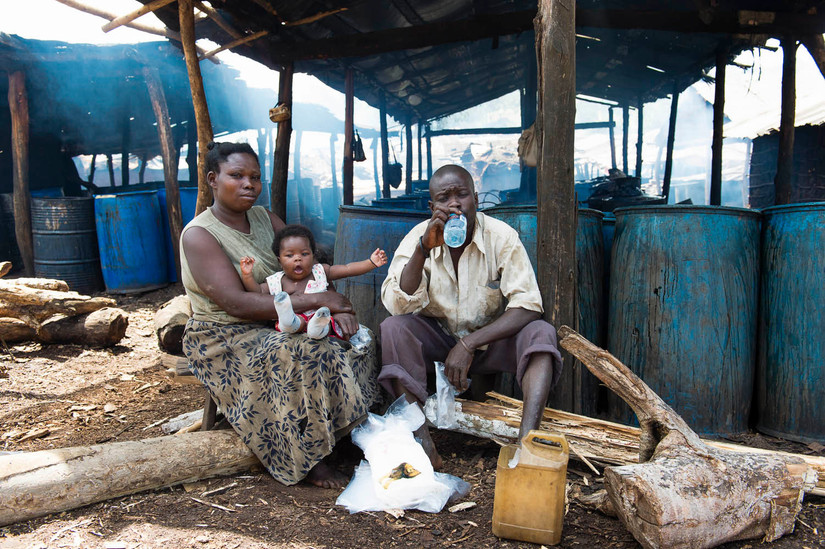 A family sit with their five month old baby, as the drunk father fills up small plastic sachets with homemade waragi. The sachets are sold in the local market for as little as 5p.
One of Imelda's employees fills up a customer's jerry can with a freshly made batch of waragi. As the illegal industry has grown, the price of crude waragi has fallen sharply and a jerry can now goes for about £11.00-£14.00.
Minani stumbles back to his hut after another all night drinking session. He has no money, but somehow manages to buy waragi.
It's 11.00am and Minani is already wasted on waragi. He has lost almost everything to drink.
Susan who heads up a group of 25 working girls from her community, is lucky if she earns 5,000/: (£1.50) per client. She drinks heavily, as she picks up most of her clients in bars and also it helps to forget her situation.
Peter is locked up for his own safety. Having drunk a bad batch of crude waragi, he now suffers from chronic mental health issues and needs constant care. He is lucky to be alive, on one of his drinking sessions, he passed out on a railway line and a passing train ripped off his left arm.